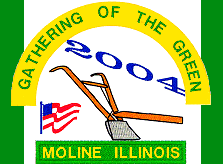 "It's Not Easy
Being Green"

3/22/04

"Gathering of the Green Winter Fling"
A bi-annual nationwide conference for
John Deere collectors, restorers & enthusiasts.


GO TO THE NEW WEB SITE
FOR NEW INFORMATION.





WHEN WAS THE LAST CONFERENCE?
WHO ran it, WHO was there, WHAT was going on?? You can find out by clicking the link above.



E-mail: Ken Reese at kwreese@aol.com
if you have questions.